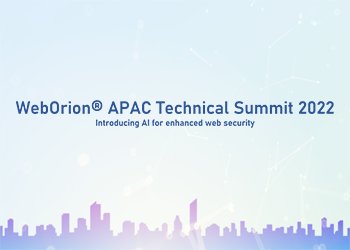 WebOrion® APAC Technical Summit 2022
our WebOrion APAC Technical Summit 2022 was held on 26 May 2022. We hope you enjoyed the Summit and found it insightful.
Here are some key takeaways from the event:
1. Our newly launched AI Natural Language Processing Engine helps to analyse webpage-changes and informs you if the change is malicious or not directly.
2. Improved website monitoring with our Smart Image Hash.
3. An overview of the implication of recent cyber exploits and how our WebOrion Suite can help address the exploitation of the log4shell vulnerability to deface webpages.
Lastly, congratulations to the winners who have won the Google Buds and Google Nest hub respectively: Anson Chin and Aaron Fu.
For those who have missed our webinar, a recorded version is available for viewing on our YouTube channel: https://bit.ly/3x2WYC4